Carroll Fitness World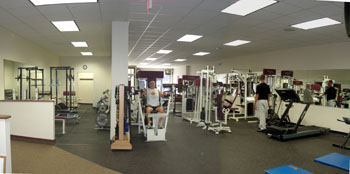 Carroll Fitness World is a division of Family & Specialty Medical Center, P.C. It is a strength and cardiovascular center that accommodates a variety of people of all ages. CFW was established in the late 1980's and has been meeting the needs of its members ever since.

Currently, our facility houses isotonic machines that isolate specific muscles and muscle groups for optimal training. We also have free weights that include a Smith Squat rack, Flat Bench, Bench Press, and dumbbells that range from 1 to 100 pounds. Our cardiovascular equipment includes state of the art treadmills, elliptical machines, upright bikes and recumbent bikes. Our equipment is easy to use and ergonomically safe. They use polar heart rate technology, so you can hit your target heart rate and see real results. "LifeFitness" is the cardiovascular equipment of choice at Carroll Fitness World. Currently, it is the #1 cardio equipment on the market.

Carroll Fitness World is a great place to establish your fitness regimen. It has a friendly adult environment that easily allows you to move from one exercise to the next. We have certified exercise specialists on staff at all times to answer questions and assist you in your fitness program. We provide fitness assessments, personal training, and nutritional supplements all in one convenient location.
Facility Hours:
Membership Rates
Single Memberships:
1 Month - $25
3 Month - $60
6 Month - $110
(auto withdrawal: $18.34/month)
1 Year - $185**
(auto withdrawal: $15.42/month)
** Includes membership, fitness assessment, One 1hr. training session **
Family Memberships:
6 Month - $199
(auto withdrawal: $33.17/month)
1 Year - $329**
(auto withdrawal: $27.42/month)
** Includes 2 memberships, 2 fitness assessments, 2- 1 hr. training sessions **
Rates are for 2 individuals (from same family), each additional family member (under the age of 18) is $75 per year.
Senior Rates: (62+yrs.):
per month - $10
1 Year paid in full - $120**
** Includes membership, fitness assessment, One 1hr. training session **
Personal Training Packages:
Express Workout = 20 minute total body workout to get you in, out, and back in shape!
One-on-One Personal Training Sessions:
1 hour - $40
1/2 hour - $25
Appointment only (ask for details) - $5
Fitness Assessment Only - $20
Body Composition Only - $5
MedX Maintenance - $195/year (2 workouts/month)
Other personal training packages available. Ask for details on pricing.